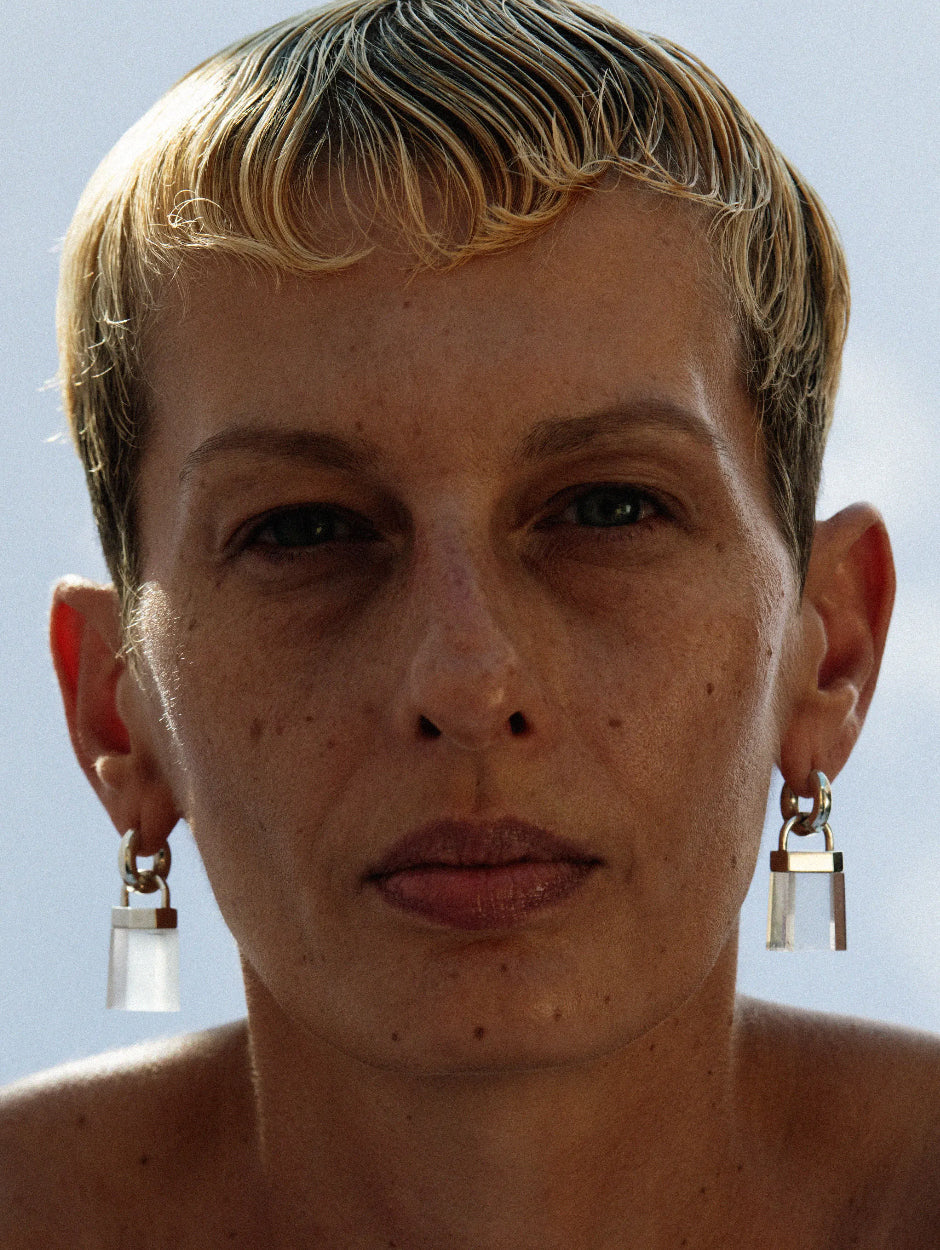 Courtesy of www.phoebephilo.com
Leave it to Phoebe Philo to have us obsess over bags and shoes that sold out in minutes. A former Céline model (The Ceiling's founder Charon) and fashion writer (The Ceiling's editor Stephanie) reflect on the collection that has a chokehold on us, two weeks later after the launch. But first: how is it possible to live in a rainy climate all your life, yet still haven't figured out how to dress for the wet season? We've spent the entire week (soaked) looking for rain gear that is actually cool and makes a smart investment. For raincoats, see here, here, here, here, here and more budget friendly here. Complete your rainy day ensemble with these rain pants here and here, rain boots here, here and here and these overalls.
Two Philophiles, two verdicts
Stephanie's verdict
"It's been two weeks since Phoebe Philo unveiled her highly anticipated namesake label, and I still can't shake the impression left by the Gig bag—particularly the white one. Reminiscent of the iconic Trio bag from her Céline days, this iteration is larger, rounder, and features a convenient shoulder strap. Despite the absence of a logo, every detail exudes the unmistakable essence of Phoebe Philo.
I could go on and on about how much this blown up version of the Trio and the chic simplicity of the two leather ties on each side of the bag. The photograph featuring a model carrying the Gig as a clutch, gripping the main section as though it were a newspaper instead of a 2600-euro bag, particularly captivates me—especially when paired with the long trench coat boasting an exaggerated collar that reaches over her mouth in the quintessentially Phoebe Philo manner. However, there's no use fixating on the Gig, as it sold out within minutes. Perhaps even seconds? I can't say for sure, as I wasn't there. When the launch notification flashed on my phone, I made a conscious decision to wait until after bedtime, ensuring an uninterrupted 'Phoebe is back' moment on the sofa with a glass of wine.
A rookie mistake: never underestimate the Philophiles. By the time my baby was asleep, nearly every item had turned red—Phoebe's dramatic yet aesthetic way of letting you know you're too late. This included what could have been the perfect, timeless, bold, and effortless addition to my bag collection.
Truth be told, even if I had the chance, I probably wouldn't have purchased the bag at that moment. I swore off impulse purchases a long time ago; buying in a rush goes entirely against my shopping philosophy. Nevertheless, my well-trained fashion instincts continue to remind me, two weeks later, of what a fantastic investment the Gig bag would have been. Imagining how good and fresh the white would have looked paired with all my darker-colored winter coats. I'm eagerly anticipating a second chance with Phoebe Philo's next drop, A2 (Spring 2024 as rumor has it.)
Was I as obsessed with the rest of the collection as well? Not really. I liked the asymmetric tailored top and the zip trousers. However, as critics rightly noted, some pieces seemed reminiscent of designs we've seen at other fashion houses. The hand-combed embroidered trousers bore a resemblance to Matthieu Blazy's work at Bottega Veneta, the oversized Bombé sunglasses shared a striking similarity with Loewe, and the scarf top could easily be mistaken for something from Toteme. The cargo trousers were a vibe two years ago, now they gave me the ick. And the outerwear was just... outerwear. Nothing particularly special about it. 
It's almost as if Phoebe didn't take a six year sabbatical. She picked things up where she left off at Céline. Especially in terms of silhouettes and choice of models. I liked the lack of makeup and the unexpected, weird poses, but other than that it felt like time stood still since she left. I have to admit I do feel envious when I see certain pieces pop up on my  Instagram feed, like the Soft Square-Toe Pump 90 in black that a friend managed to buy. But despite the bags and shoes, I think I expected more." 
Charon's verdict
"In September 2012, I spent eleven days in the Céline atelier in Paris as an exclusive with Phoebe Philo and her design team, fitting looks for the AW13 show. Back then, walking a Céline show was an instant career boost for a model. When I heard I was confirmed for the show, my initial thought was that I would receive a bag as a gift after the show, as a form of payment. Phoebe Philo was friendly yet reserved, deeply focused, incredibly precise, and always in control, all while wearing her signature uniform of a sweater, tailored trousers, and sneakers.
Backstage after the show, I was handed a large Céline paper shopper containing a pair of blue sunglasses (frankly, resembling the ones my grandfather wore after his cataract surgery) and a beige Edge bag. It wasn't love at first sight, and the bag wasn't a retail success either—it was quickly discontinued. However, as I walked out of the Tennis Club de Paris, the show location, with my Edge on my arm, I felt like a new and improved, Céline-ified version of myself.
In the years following the show, I expanded my collection with two Céline bags: a second-hand black Box Bag (we were inseparable for years) and a snow-white leather minibag from the Michael Kors era. After Phoebe departed from Céline, along with the accent aigu, the era of designer bags died as well, in my opinion. For a long time, not a single bag made it onto my wish list. I thought I might rediscover that spark when Daniel Lee assumed control at Bottega Veneta, but none of his designs ultimately tempted me. Mainly because, in my opinion, his creations lacked the effortless coolness for which Phoebe is renowned. The Row has started to fill that void with the launch of the Margaux bag. Nevertheless, many of their designs lean towards a more ladylike and serious style, lacking the element of fun. Frankly, Ferragamo's Hobo from last week's edit was the first bag that gave me a glimpse of the feeling I first experienced after my initial Céline encounter.
Phoebe's debut collection undeniably echoed the essence of Céline. However, wasn't that precisely what we were anticipating? Hoping she would fill the emptiness left when she resigned in 2018? I believe the answer to that question is yes, but simultaneously, I expected to witness something entirely new. While I find myself wanting to wear 80 percent of the collection—especially that ridiculously good high-neck jumper, all the trousers, and the small Kit bag—I wasn't completely blown away. The lack of diversity in the casting also left me disappointed. Once again, much like the collection itself, I have to agree with Stephanie and say I felt a regression in her choice of casting—opting for predominantly tall, white, and thin women.
I personally am not a fan of the red logo; it reminded me of Stranger Things. Did I expect too much? Maybe. Did Philophiles set the bar unrealistically high by glorifying her throughout her hiatus? Perhaps. Is Phoebe still the coolest girl in fashion? Judging from the hype, yes. However, I'm not 100% convinced yet. Nevertheless, I am certain that I would feel the same with a Kit bag on my arm as I did after leaving the AW13 show with my first Phoebe bag. When it comes to accessories, Phoebe is undoubtedly still on top of her game." 
While we eagerly await Phoebe Philo's A2, we've discovered lesser-known second-hand pieces from her Céline and Chloé eras, including the Paddington bag—her first 'it' bag launched in 2005—at shockingly good prices.
Exhibit A: this cabas bag with studs, B: Spring 2018 cape T-shirt, C: Fall 2018 belt, D: silk camisole, and E: silver bracelet.
Subscribe to the newsletter below, or join us on Substack.